November 26 is the anniversary of actress Sanae TAKASUGI's death.
TAKASUGI's movie debut is "Our Neighbor, Miss. Yae".
This work has also become irreplaceable for the director Yasujirô SHIMAZU.
It is said that the so-called "Shochiku-style" line, which is the main theme of "Family Love," started from this film.
To put it more directly, many directors of Shochiku took the example "Our Neighbor, Miss. Yae" as a result, that it came to be the mainstream which is called "Shochiku style," I think.
width="400" height="277" >
But this work is not straining us.
No significant incidents happen, only the frivolous exchange between adjacent houses is drawn.
Some people may even say that this work is not a movie.
Mr. Kôgo NODA, a famous scriptwriter such as "Tokyo Story", criticized this work.
width="400" height="277" >
However, when people talk about the "Shochiku-tone", they do not differentiate between the lines created by Mr. Yasujirô OZU and Mr. NODA, and the lines that Mr. Yasujirô SHIMAZU has formed.
It is interesting that it is seen only by the brother that blood is connected when seeing from the two sects though it is counterpart in the company.
And while continuing the tradition of "Shochiku style", Mr. Yôji YAMADA has continued to adapt it to this age.
width="400" height="277" >
It is regrettable that there is not a person who seems to take over the "Shochiku style" in the future.
However, as long as the present world continues, the masterpiece group of Shochiku will continue to be loved by people forever.
If you look at the DVD jacket of "Our Neighbor, Miss. Yae" Sanae TAKASUGI is as if it seems like a double cast with Miss. Yumeko AIZOME, but it is a supporting role.
Moreover, as revealed in Mr. Kôzaburô YOSHIMURA's book, she was as quiet as a borrowed cat this time.
width="400" height="277" >
Still, it seems that the few cuts Miss. TAKASUGI is appears at the beginning of the movie seems to be doing the core of this work.
Perhaps she had a rare presence that no other person would have.
The following passage cited from [Age of cinema - Training Period of a Director]. (author: Kôzaburô YOSHIMURA)
border="0" >
※ This book is written in Japanese.
Miss. Sanae TAKASUGI appeared as a schoolgirl friend of "Yaeko" by the name of the role "Etsuko".
That might not have been the stuff to call "appearances".
Because her acting was out of the question.
Yaeko "He's not a guest, he's the one next door. You don't have to worry, so go into the house."
Etsuko "But..." Yaeko "That's OK, Etsuko." Etsuko "Yes, but..." Yaeko "He's the one you don't need to care about."
Etsuko "If you say so..."
She couldn't speak well "But", "Yes, but", and "If you say so".
After she appeared in this movie, she was being teased with 'Miss. TAKASUGI of "But", "Yes, but", "If you say so"' for a while.
In the silent movie era, my master, Mr. Yasujirô SHIMAZU has made a film of the scenario of Mr. Kôgo NODA a few times.
However, two people did a little the counterpart since "Our Neighbor, Miss. Yae".
The reason is when Mr. NODA asked for his opinion on the script of "Our Neighbor, Miss. Yae" from Mr. Shiro Kido, center president, "There is no theatrical play at all. It's a bad script." said advised, who was heard by Mr. Yasujirô SHIMAZU.
(In any era, some races are pleased with seclusion by making people misunderstand in the studio.)
Mr. SHIMAZU put on his leather gloves, swung ash's stick, and jump from the house while being very angry with "I will beat NODA from now."
To stop it, I had a hard time.
In those days, I was lodging in the back of Sanno of Omori.
[...]
One spring day, when I was idly on the second floor of the boarding house, I heard a voice saying, "Mr. YOSHIMURA. Are you at home?" When I opened the window, my master was standing there.
It was my first time that my master came to my boarding house.
"I made it. I made it. I made a screenplay."
The master who seemed to be in a good mood unlike usual showed me the manuscript he had in his hand.
We dropped to Mr. Shiro TOYODA's home and entered a restaurant in front of the station which was considered the most fashionable in this neighborhood, and read the scenario by a window seat there.
It was a pretty lyrical honorable mention
As we say, "It's nice." "I guess it's good ...... the phrase is especially good," said the master.
He seems to be very confident.
We immediately went to the preview of the location set until the area around Nitta of the Mekama Line (Tokyu).
On that day, the master was in a good mood all day.
We parted from my master in Kamata and on the way home I went to Mr. TOYODA 's house and had dinner.
What we talked about was that the master seemed to have searched for "The way".
The title is "Our Neighbor, Miss. Yae".
[...]
"Our Neighbor, Miss. Yae" was a great success.
width="400" height="277" >
https://www.imdb.com/title/tt0160994/?ref_=nm_knf_t4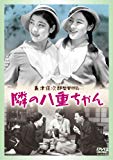 border="0" > Please be careful!
This DVD does NOT have subtitles.
[Our Neighbor, Miss. Yae]
(alternative title = My Little Neighbor, Yae)
Director: Yasujirô SHIMAZU
Cast: Yumeko AIZOME, Yûkichi IWATA, Chôko IIDA, Yoshiko OKADA, Den OBINATA, Ryôtarô MIZUSHIMA, Fumiko KATSURAGI, Akio ISONO, Sanae TAKASUGI, Shôzaburô ABE
★ I am a beginner in English.★
Please do not hesitate to point out when you find a mistake!